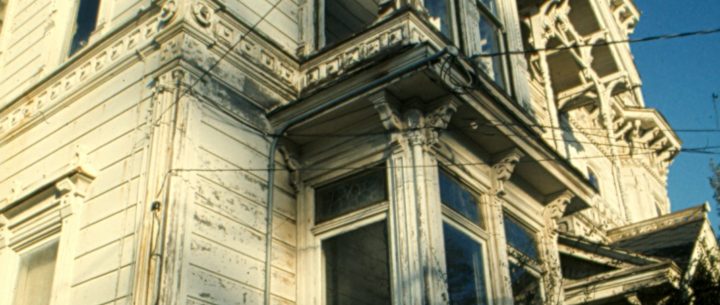 By Rivkah Barmore
The majestic Victorian was on California Street in Santa Cruz, California. During the late '60's early '70's the Victorian was owned by Professor Ralph Abraham and his wife Caroline. When I came to live inside this magnificent structure I was twenty­one or so. I believed myself most fortunate to have been invited to be a "helper,'' for Caroline; caring for the Abraham's boys, Peter and Johnny.
The Victorian home was captivating. The light which shown through the large paneled windows was bright, clean with occasional rainbows showing on the wall from the beveling. The air was always a bit chilled; I assumed due to the three stories, including a cupola, which made heating the Victorian a challenge.
In the yard of the Victorian was a large Walnut tree with a swing for the boys and shade for the family dog, Chester.  I met Caroline first through our mutual friend Ernie. Ernie also lived in a Victorian home on the corner of 7th Avenue and Soquel Avenue. All of us called Ernie's Victorian, "The Trip House.'' Pretty self ­evident that Ernie's Victorian was the place to be on your L.S.D. trip. I think Caroline, a professional photographer, found Ernie's Victorian (as well as Ernie) fascinating and an opportunity for great photographic history of the era. I still have the photo of our "Tribe'' which Caroline took. All of us: Ernie, Juan, (my love for
many years), Rodney (a friend), Artie (Juan's cousin), Brian (Juan's brother), me, Lucy (a friend), and Artie's girlfriend Trina. We were in our finest leather, lace, feathers, beads and long hair. Beautiful.
Back to the Victorian. I came in at Caroline's request. I helped her with the boys, I cooked macrobiotic meals for everyone, and I suppose I cleaned a little bit too. I had a little room on the second level of the home; close to the boys' rooms. I loved hanging out with the boys and Chester. I loved making organic, stoneground bread which doubled as a brick after eighteen hours. We all ate a lot of brown rice, carrots and fertilized eggs.
I also worked at the Catalyst as a server, and the Bookshop Santa Cruz. When the Catalyst was open from Front Street, the customers could walk through to the Bookshop. The owners at the time were Ron and Sharon, also friends within the "Tribe.''
I am unsure exactly when I first met Ralph. The Victorian was so big I think I had been in the house for awhile
before we met. When we did see one another inside the Victorian I realized he had been a customer at the Catalyst. I was very impressed with his intelligence and his sense of awe when he was with his children.
In my little room the light streamed in through a western window. There were bright colors on the covers and pillows.  I loved this small room. I would retreat to this room for meditation and naps.  On one such occasion I experienced my first "out of body'' perception. Amazing memory. Vivid and very real.
Caroline and Ralph had an open marriage. I also don't remember when Ralph and I became lovers. I do, however, remember lying awake for hours after our lovemaking, listening to Ralph illuminate mathematical themes, concepts, hopes for future projects and fantastic, futuristic musings; mostly being snug in a single
bed, in a small room, in the Victorian.
A very clear memory within the Victorian was the visit from D.W. I was asked to oversee his visit while the family was on an excursion. He stayed downstairs. He rarely came out of his room. When he did appear he
had his head covered and dark glasses on with only a small hole to look out of. He wouldn't say a word to me. However once in his room, and going through whatever changes he was, he would howl, scream, bang on the walls. This pattern repeated for over a week, then he left the Victorian as mysteriously as he came — without a word.
I lived at the Victorian without Juan. One morning I woke up with Juan sitting on the stairs to the second story. He had been up all night on an LSD trip. Apparently he'd let himself in and was waiting for me to wake­up. Ralph had already left for class and so they had not seen one another.
He was still in an altered state. He wanted me to move back to the ranch with him; previously Ken Kesey's ranch.  I asked for time to think about what I wanted.
I was pretty happy at the Victorian. I stayed at the Victorian; after all there was a constant flood of visiting mystics, musicians, magicians, mathematicians and mad­men. Sometimes these wondrous individual qualities
were found in one person; why would I leave?
The Catalyst, my part­-time job, hosted an active venue for many artists. There was open mic night; poetry night night, belly dancers often provided lively entertainment. When nothing formal was going on there was always
intense conversations over coffee. Gurdjieff, Herman Hesse, who has the best L.S.D., all with Erik Satie on the sound system.
There as a "walk­through'' to the old "Bookshop Santa Cruz.'' One passed a turn-­of­-the-century fountain. Reflecting on this ivy­-covered flow-­through from the Catalyst to the Bookshop it was the symbol of the flow of information, ideas. energy, light. It was beautiful.
Carlos Castaneda gave a book­signing and lecture around his book "Travels With Don Juan.'' After walking from the Bookshop, through the Fountain Room to the Catalyst he was heard to remark. "This is like walking through the Soul of the city.''
I audited many classes at the university. The university system allowed students to audit as long as the professor agreed. During the spring of 1967­', '68, or so, the Freudian Psychologist, Dr. Norman O. Brown, was a
visiting professor at UCSC. his book, "Life Against Death,'' was a psychoanalytical history of war, a struggle between Eros and Thanatos. His lectures were always well attended and sparked much debate at the Catalyst / Bookshop later on. Dr. Brown was often included in these post-lecture discussions as well as student parties; he was very popular and accessible. The last day of his classes the lecture hall was disrupted with individuals dressed in eight-­foot penises, huge hairy balls, with all performers throwing tennis balls into the audience. It was a hit; perfect ending to the semester.
Ralph was invited to lecture for the summer in Coventry. The whole family prepared to leave for England.
Ernie was also invited to go with the family as well as others whose names escape me at this point.
Shortly before we were to leave for England, Caroline called me to the dining room. Caroline, (even though
she had invited me to live in the Victorian with the family), reported to me that she had been living a nightmare. I was the cause of her nightmare and she wanted me out of the house. I was speechless. I left the meeting and went to my room. I couldn't figure out what I had done. We, Ralph, Caroline and I were all in agreement with the sleeping arrangements, so I was clueless; young and clueless.
As it turned out I stayed at the Victorian while Ralph, family and friends left for England. I was gone from
the Victorian when the family returned.
I loved living in the Victorian and love those who so profoundly influenced my life. Good memories of a Victorian.