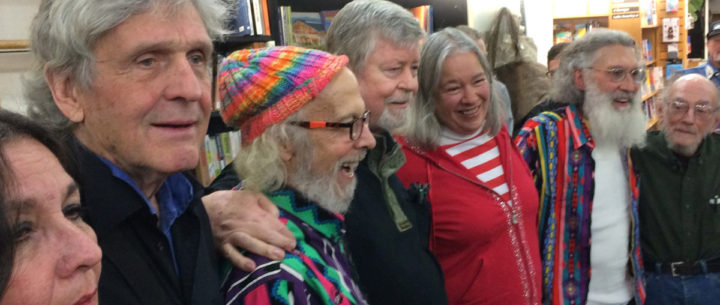 By Lee Quarnstrom
One of my first discoveries when I moved to Santa Cruz (from La Honda, as part of the Prankster diaspora) was that there was already a social scene in place for people sort of like we were, i.e., oddballs. There were surfers, there were folks who gathered to dance to, the great music at Poison Springs in Capitola Village, at a bar Ed Leslie might have been involved with on Pacific Avenue, at the Zayante Club (a couple of years after my wife at the time, Space Daisy, and I had moved to Zayante) and at various joints in Ben Lomond. There was the drag queen topless dancer at Monk's Place across Beach Street from the Boardwalk; there was Tom Louage's place in Capitola Village before he bought the Club Z. There were bands and singers, some of whom were part of the local scene, at the Catalyst. I remember seeing Jefferson Airplane at the Civic Auditorium and, I think, the Grateful Dead up at The Barn (weeks after they'd played at our party at the Spread, the whoopdeedoo honored in December, as the first Acid Test).
I was close to Ron Boise after we'd met in La Honda and we spent time together there, both at Kesey's and up the road drinking at Boots and Saddles — since the majority of the Pranksters, at that time, at least, disdained alcohol. In fact, Space Daily and her kids were living with Boise in the back of his van, the one that passed along to Joe Lysowski after Ron died at Community Hospital. I was one of the first to move south from La Honda, to "the Spread" off Soquel Drive at Rodeo Gulch, and, since Ron Bevirt was, with Zonker, one of my two closest Prankster pals, I got a job working at the Hip Pocket Book Store (at a buck an hour, I think) working evenings with Tony Maggi (with whom I correspond every now & then) and with Hassler, who lived in an old meat locker in the back of the space, which had once been the cafe for the St. George Hotel. (Some mornings I'd open the bookshop and sweep the sidewalks and play music over the loudspeakers out on Pacific Avenue while I watched the guys from the coroner's office wheel dead old men out of the hotel that was their last address on earth!)
I think I visited the house on California when I was living with Donna Blakemore … but I'd been there before when Dick Smith, my dentist and the dentist who made Kesey's "flag tooth" and Wavy Gravy's "rainbow teeth." I worked with Stan Fullerton on Dick Miller's unsuccessful Congressional campaign in 1964 (my brother Dean had met Dick when Dean was a student at the Art Institute in San Francisco) and still have several of the novels and history books Dick Miller wrote as well as several Stanley Fullerton paintings. I wish I'd had enough funds (it didn't take much) to buy art from artists in those days, especially on the day they made it, and to buy works by Joe Lysowski and Tony Maggi.